Review: Reality Big Guns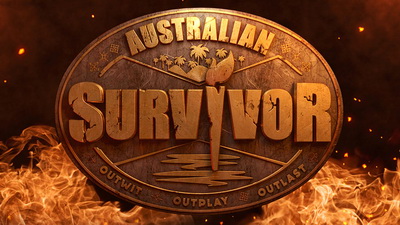 Source (WP:NFCC#4), Fair use, https://en.wikipedia.org/w/index.php?curid=48599159
As the TV calendar approaches the pointy end of the year, it's do or die for the free-to-air networks. So they've brought out the reality big guns, the shows involving real people thrown into unreal situations. These programs can rate through the roof - literally, in the case of The Block where roofs and ceilings come off at the drop of a hard-hat.
Whenever I watch The Block, I'm reminded that the interiors of my own house are sooo last decade. As someone who's been an owner-builder on two projects – one a major reno, the other a new build, I know how stressful and exhausting the whole process can be. That's why I like to do my renovating vicariously these days, reclining on the sofa with a glass of wine and watching other people do all the work. I've even been known to yell at the screen, reminding the contestants to wear their dust masks or measure twice and cut once. (This is akin to my tendency to shout 'Call for back-up!' during police dramas but that's a story for another day.)
Reality TV comes in many forms and there's something strangely compelling about matchmaking shows. So let's start with Married at First Sight, a program that turns the traditional romance trope upside down. The first episode features the weddings of five couples who have never met but have been matched 'scientifically' by a trio of psychologists. Subsequent episodes follow the newly minted relationships as they flourish, fizzle or implode. Against my better judgment, I've become hooked on this show. Watching the hapless couples, meeting at the altar, dressed in their wedding finery, makes for nail-biting suspense. Will it be attraction or rejection? One contestant said she would know either way in the first 90 seconds. Wow!
Unlike Married at First Sight, The Bachelor doesn't purport to be a 'social experiment'. And strictly speaking, it isn't reality TV either. More like the epitome of unreality, a bizarre fairytale where the handsome prince chooses his princess from among the two dozen glamorous candidates vying for his attention. The setting is a modern-day version of a fairytale castle (or, at least, the producers' vision thereof), complete with silk wisteria hanging from arbours, and a myriad of candles covering almost every available surface. Who lights them all and snuffs them out afterwards? I must check the credits to see if they employ a candle wrangler. (Stop Press: I just read that the show has a fire warden to deal with the candle situation. Thank goodness for that.)
Although the premise underlying The Bachelor is rather worrying, I have to confess I find it eminently watchable. Richie Strahan, last year's second runner-up for Sam Frost's heart, has been promoted to the starring role in this year's show. Richie seems to be a really nice guy - which is why I feel sorry for him as he squirms through the relentless rose ceremonies.
And now to the ultimate reality show, Survivor Australia. The contestants begin their 55 days on a tropical island with no shelter, no fire, no food and no creature comforts. That's harsh reality for you. Jonathan LaPaglia is a fine host who interrogates team members at tribal council with surgical precision. Maybe that's because he used to be a doctor before he became an actor.
I've left the cooking shows till last. The best ones, MasterChef and My Kitchen Rules, are in hiatus, and we're left with Zumbo's Just Desserts. Great title, tedious show, even with the delightful Rachel Khoo as co-host. The affable Adriano Zumbo might be the master of the macaron and the creator of the world's highest croquembouche, but he doesn't have a strong enough personality to carry a TV show. Zumbo's Just Desserts only serves to remind me of how much I miss Gary, Matt and George and their witty badinage.
Deborah O'Brien
August 2016
---