NOW AVAILABLE AS A FREE E-BOOK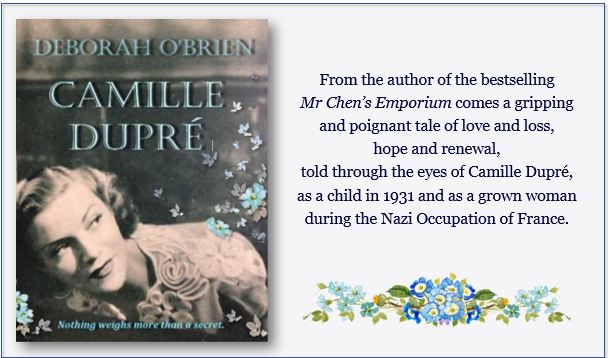 DOWNLOAD THE E-NOVEL HERE.


'In this cleverly crafted and meticulously researched novel O'Brien has created a story of survival which demonstrates the power of literature to transcend boundaries of place and time. 'Camille Dupré' stimulates the imagination, satisfies the heart and provokes contemplation of a brave new world.'
Chris McGuigan, 'The Kensington Review'
'Even though the book is set during dark times in history, 'Camille Dupré' is filled with light, warmth and love. I loved everything about it, the characters were so real to me and I got such a strong sense of village life, and enjoyed how it was embroidered together with the French proverbs.
'A book as special as 'Camille Dupré' needs to be read in a walled garden accompanied by a pot of French Earl Grey tea and a massive bunch of Souvenir de la Malmaison roses.
'Utterly compelling and exquisitely beautiful.'
Michelle Endersby, writer and renowned rose painter
'An enchanting story about making it through to the other side . . .
Perfect reading in these coronavirus times.'
'Books Galore'
READ MORE REVIEWS HERE.


---