Valentine's Day Series - Part 1
My Five Favourite Books about
Unrequited Love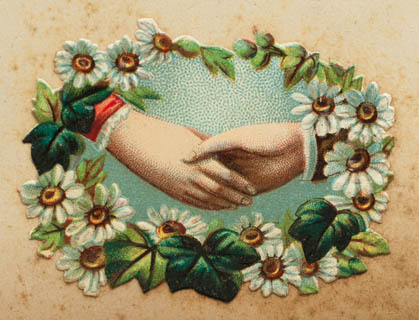 1890s scrapbook image courtesy Jan N.
'Unrequited love hurts like hell – whether you're fifteen or fifty-something.'
That's the tagline from my forthcoming novel, 'A Place of Her Own'. And it's true, isn't it? There's no age limit on the emotional pain involved in loving someone who doesn't love you in return.
Whether it's a teenager experiencing her first love or a 'woman of a certain age' yearning for someone she can't have, I've always thought there's something noble about a love that's unspoken and full of longing. Most of us have experienced it, even if it was only a fleeting adolescent crush on someone who didn't even know we existed.
In 'A Place of Her Own', a woman suffering from unrequited love comes to the following conclusion:
'In a romantic sense, he might be spoken for, but that didn't matter. She could love someone who didn't love her in return. There was no law against it. In fact, people did it all the time. He would never have to know. She just needed to keep things in perspective, avoid wallowing in the unrequited nature of her feelings.'
Then there's the dysfunctional scenario, the one where unrequited love morphs into an obsession. If a person happens to be psychologically unbalanced, an obsessive passion can lead to extreme behaviour. Ian McEwan writes chillingly about aspects of this phenomenon in his novel, 'Enduring Love'.
But back to the concept of unrequited love as a romantic infatuation which is never acted on. The nineteenth century English poet, William Blake summed it up in these two famous lines:
'Never seek to tell thy love,
Love that never told can be.'
So, without further ado, here are my five favourite books about unrequited love. By the way, there are spoiler alerts in the text for those of you who haven't read 'The Great Gatsby', 'Young Werther' and 'Jane Eyre'.
1. NOTRE DAME DE PARIS, Victor Hugo
When I was a teenager, I used to stay back after school every Wednesday
afternoon to attend film club. That's how I came to see the 1930s version of 'The Hunchback of Notre Dame'. I loved Charles Laughton's gargoyle-like Quasimodo, desperately in love with Maureen O'Hara's beautiful Esmeralda. Anxious to linger over the story, I bought the book itself, a ponderous tome with multiple sub-plots and a great deal of extraneous historical material that I skimmed relentlessly in my search for the passages about Quasimodo's heroic infatuation with the Gypsy girl and its counterpoint, the dastardly Claude Frollo's obsession with her.
2. LE GRAND MEAULNES, Alain-Fournier
I would never have known about this wonderfully evocative novel, if it hadn't been a set text in my first year French course at uni. That's usually enough to put you off a book, particularly when there's an essay involved, but I quickly fell in love with Alain-Fournier's dreamlike story about a young man called Meaulnes, trying to recapture a lost past in which he met a girl who stole his heart.
In that respect, there are similarities to 'The Great Gatsby' (discussed below). However the two novels differ markedly in mood and tone. Fitzgerald's story, set in the Jazz Age, is often dark and cynical, while 'Le Grand Meaulnes' reflects the comparatively innocence of the pre-World War I period in which it was written. For me, there's an added poignancy in that its young author was killed in action on the Western Front not long after the book was published. It was his first and only novel. If he had lived, he might well have been one of the great novelists of the twentieth century.
3. THE GREAT GATSBY, F. Scott Fitzgerald
I have a confession to make – I own two copies of 'The Great Gatsby' – one in the city, the other in our little country cottage. I love this book so much that I reread it at least once a year. In essence, it's a tale of a man who builds a whole life around the idealised love story he has concocted in his head. (Spoiler Alert) For a while, the fantasy seems to become a reality, but this isn't the world of 'The Notebook', and things don't end well. Poor Gatsby. He never realised he was trying to recapture an epic romance that didn't exist in the first place.
4. THE SORROWS OF YOUNG WERTHER, Goethe
'Die Leiden des jungen Werthers' is yet another set text from my first year at university. It's a classic tale of unrequited and overwrought love, but unlike 'Le Grand Meaulnes', (Spoiler alert) there's a particularly nasty ending for the long-suffering Werther. Goethe later disowned the book, which contained embarrassing autobiographical elements inspired by his own youthful infatuation with a young woman. The novel became influential among young men of the time –a kind of 1770s' equivalent of 'Catcher in the Rye'.
5. JANE EYRE, Charlotte Brontë
(Spoiler alert)
Wait a minute, I can hear you say, didn't Jane Eyre marry Mr Rochester in
the end?
Well, yes, she did, but only after his house burned down and he was blinded in the fire. For a large part of the novel, during which Jane served as governess to Mr Rochester's ward, she was in love with her boss while he manipulated her emotionally by carrying on with the aristocratic and wealthy Blanche Ingram. It's an odd book when you analyse it, but if you just go with the flow, it can be an engrossing Gothic read.
See also: My Four Favourite Stories about Platonic Love and My Top Ten Romantic Comedies.
Deborah O'Brien
January 26, 2014