Editorial Reviews: 'Mr Chen's Emporium'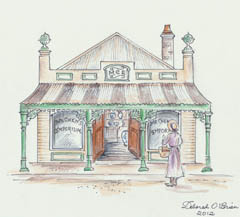 published in Germany as 'Amy's Geheimnis'


---
'I love stories like these, where the past and the present intertwine
to produce a memorable book.'
MENTAL CHEESECAKE
---
'This wonderful novel tells the story of two women and, above all, their desire for happiness. An enchanting book about life itself and seeking the courage to follow one's heart.'
'5 stars out of 5'
BUCH-TICKER about 'Amys Geheimnis'
---
'In Amys Geheimnis Deborah O'Brien deftly connects past and present
and the stories of two women.'
LITERATUR TIPPS (DAS BUCHEMPFEHLUNGS-PORTAL) about 'Amys Geheimnis'
---
'A beautiful novel - an absolute must for those who love the unfolding of secrets.'
'5 stars out of 5'
FANDOMPARADISE BLOGSPOT about 'Amys Geheimnis'
---
'This was a thoroughly enjoyable read - one of those books you can feel lurking on your bedside table, begging you to pick it up again.'
CARON DANN in THE CRAYON FILES
---
'Eine wunderbare Geschichte über zwei tolle Protagonistinnen . . . Ich gebe 5/5 Punkten und eine absolute Leseempfehlung.'
'A wonderful story about two great protagonists . . . I give it 5/5 and an absolute recommendation.'
NINESPO BLOG about 'Amy's Geheimnis'
---
'Amys Geheimnis ist ein schöner Schmöker.'
'Amys Geheimnis is a beautiful light read.'
LITERAFEE BLOGSPOT
---
'Ein abenteuerliches, spannendes, romantisches und unterhaltsames Buch.'
'An adventurous, enthralling, romantic and entertaining book.'
IMMER MIT BUCH Blogspot about 'Amys Geheimnis'
---
'Ein schöner Roman, in dem Vergangenheit und Gegenwart ineinander übergehen, und der durch unterschiedliche Themen überzeugt.'
'A beautiful novel in which past and present blend into each other and which convinces with its various themes.'
AEF KAEYS WORLD OF BOOKS about 'Amy's Geheimnis'
---
'Eine wunderschöne Liebesgeschichte, die ich besonders denjenigen empfehlen kann die . . . von einer fantastischen Autorin ins Geldgräberstädtchen Millbrooke entführt werden wollen.'
***** Fünf Sterne 5/5
'A wonderful love story that I can especially recommend to those who wish to be transported by a fantastic author to the little Gold Rush town of Millbrooke.'
MEINE LIEBLINGSBUECHER about 'Amys Geheimnis'
---
'Durch den tollen Schreibstil der Autorin sind die Seiten dahingeflogen. Sie versteht es, die perfekten WCrter für das 19. Jahrhundert zu finden, wie auch für die Gegenwart.'
'The author's engaging writing style makes the pages fly by. She knows how to find the perfect words for both the 19th century and the present day.'
BOOK CATS about 'Amy's Geheimnis'
---
'Amys Geheimnis ist eine wunderbare Geschichte über die Macht der Liebe . . .'
'Amys Geheimnis is a wonderful story about the power of love. . .'
LESEFEE about 'Amys Geheimnis'
---
'Ein grandioses Debut der australischen Autorin Deborah O'Brien.'
'A splendid debut from Australian author, Deborah O'Brien.'
SUSANNE KELLER, EVENTS and MORE PRESSEMAGAZIN about 'Amys Geheimnis'
---
'Have you ever read a book where the story was so good that you didn't want it to end?'
JACANA Blog site, August 2013
---
'What a blissful read, some twists and turns that I really wasn't expecting. It is a wonderful blend of the gold rush times and now, with topical themes.'
'NORTH MELBOURNE MUM'
North Melbourne Mum website, August 2013
---
'Gripping Aussie saga spans time.'
THE OAMARU MAIL, NZ
---
'Parallel worlds unfold out of the Australian past ... An easy read, ideal to curl up with on holiday or a rainy Sunday afternoon.
Caroline Hunter in the OTAGO DAILY TIMES, NZ, March 9, 2013
---
'Mr Chen's Emporium: A top read'
READER'S DIGEST AUSTRALIA website
---
'For fans of historical and romantic fiction with a touch of the exotic in an Australian setting.'
HURSTVILLE LIBRARY MUSEUM GALLERY
---
THE BIG BOOK CLUB'S DECEMBER SELECTION
'This is a great debut from Australian author Deborah O'Brien. I look forward to more from her.'
THE BIG BOOK CLUB (Annie, Project Officer)
---
'MR CHEN'S EMPORIUM is a story of beginnings and endings, of love and loss. It is a story of prejudice and open-mindedness too, set in a country town at times of change. ... An entertaining read about rural life historically and now.'
CLAIRE SAXBY in 'AUSSIE REVIEWS' - REVIEWS OF GREAT AUSTRALIAN BOOKS
---
'... very good read set in the Gold Rush era, and telling a multicultural love story ... well-written and easy to read.'
CANTERBURY CITY LIBRARY, Victoria (KAY CORTESSIS)

---
' ... an old-fashioned story about love and finding yourself.'
NATALIE at OUR BOOK CLUB
---
'... Deborah O'Brien has created such a detailed and vivid picture of the town and the people that I can imagine there will be a follow-up to find out more about the town - then and now.'
DIANE SEXTON, 'SASSI SAM'
---
'I have just finished a fabulous new Australian debut novel called MR CHEN'S EMPORIUM by Deborah O'Brien. I read it on my iPhone and it was such a great read, I went out and bought the print book so I could have it on my bookshelf! How many other people do that?'
MARGARETA OSBORN, author of BELLA'S RUN and HOPE'S ROAD
---
"MR CHEN'S EMPORIUM is an enchanting tale that is sure to have wide appeal amongst book lovers of all ages.
With the holiday season just around the corner, I'm certain it will make a great summer read."
MAYOR OF HURSTVILLE CITY COUNCIL, CR JACK JACOVOU
on the Hurstville City Council website, November 22, 2012
---
'This book is a truly lovely read. Deborah O'Brien gently paints the picture of two women's lives, loves and moments of heartache in such a sincere way that within minutes I was lost and all else was forgotten until the turning of the final page.'
CORAL MAZLIN-HILL OF CORAL MAZLIN DESIGNS , NZ
(www.coralmazlindesigns.tumblr.com) Blog article, October 29, 2012
---
'... There is great charm in particular to the historical part of MR CHEN'S EMPORIUM, with its look at the town's attitudes towards the 'Celestials' or Chinese miners, and the fascinating character of Charles Chen ... This was a very enjoyable debut set in a little explored period of Australian history. Highly recommended.'
BUNDABERG REGIONAL LIBRARIES
---
' While the two main protagonists are separated by time, they are both strong women and carry O'Brien's story well ...
Her characters could be from any small country town in Australia and it is that realism which will be part of what attracts readers to her debut effort.'
ANYA WHITELAW in the 'WESTERN ADVOCATE',November 3, 2012
---
'O'Brien's captivating novel skilfully mixes solid research and fiction, telling a poignant, page-turning and heart-warming story within the framework of both historical and contemporary romance.'
STEPHEN DAVENPORT in the 'FLINDERS INDAILY' (Flinders University)
---
'You'll end the book desperately trying to imagine the person who lived your life before you did …'
'SHOP TIL YOU DROP' magazine, 1 Dec, 2012
---
'... MR CHEN'S EMPORIUM is an emotional and empowering novel, buoyed by its two fantastic female leads, and Millbrooke, which is almost a character itself ... The interconnecting stories and subtle plot twists made for an absorbing, yet still comfortable, read ... So thank you, Ms O'Brien, for inspiring a newfound love of Australian historical fiction within me!
'Gorgeous story!'
MANDY of 'THE THOUGHTS OF A GIRL'
---
'On finishing the book I wanted more. Can't wait for the sequel ...I'm giving this book five stars out of five, because I thoroughly enjoyed it and couldn't fault it at all.'
SHARON of 'FUNKEN WAGNEL'
---
'... I simply adored "Mr Chen's Emporium" ...We are treated to two separate but beautifully intertwined storylines... I would highly recommend this book.'
MONIQUE FISCHLE, 'THE MUSINGS OF MONIQUE'
---
'MR CHEN'S EMPORIUM is a wonderful debut novel, rich with history and packed full of stories that I just couldn't get enough of.
... Can recommend this one for fans of both contemporary and historical fiction and those who love to read about country Australia.'
'1 GIRL 2 MANY BOOKS'
---
'A real charmer and a fine debut.'
DEBORAH RODRIGUEZ, Author of 'THE LITTLE COFFEE SHOP OF KABUL'
---
'This enchanting tale tells the story of two women in one town, but centuries apart .... The narrative blends seamlessly between the two time periods, which are strong stand-alone stories.
I loved every page of this beautiful book.'
JACQUI JONES in the 'NEWCASTLE HERALD Weekender', Sept. 8, 2012
---
'In a word: enchanting.'
'THE GOLD COAST BULLETIN'
---
'Moving between the present day and the Gold Rush era in rural New South Wales, O'Brien weaves a comfortingly old-fashioned tale of love, loss and self-discovery.'
LARA CAIN GRAY of 'THIS CHARMING MUM'
---
'For a first time fiction author Deborah O'Brien has really hit the mark. Her new book MR CHEN'S EMPORIUM is a lovely story and a beautiful read.
... It has suspense, fun, discovery and laughter. Highly recommended!
'MRS MICHELLE S'
---
'... Though a hundred years separates the two women, and their narratives are in very many ways divergent, there are also so many similarities in outlook that the book forms a fascinating latticework of themes and emotional resonance.'
STEPHANIE CAMPISI of 'READ IN A SINGLE SITTING'
---
'Rich in romance and history ... An enjoyable and well-researched read ... I'm keen to read more by Deborah O'Brien.'
MONIQUE MULLIGAN in 'WRITE NOTE REVIEWS'
---
'... MR CHEN'S EMPORIUM is a light, engaging novel which I think would particularly appeal to readers of historical and romantic fiction.'
SHELLEY RAE of 'BOOK'D OUT'
---