---

Free Bookmarks to Download
Designed by Deborah O'Brien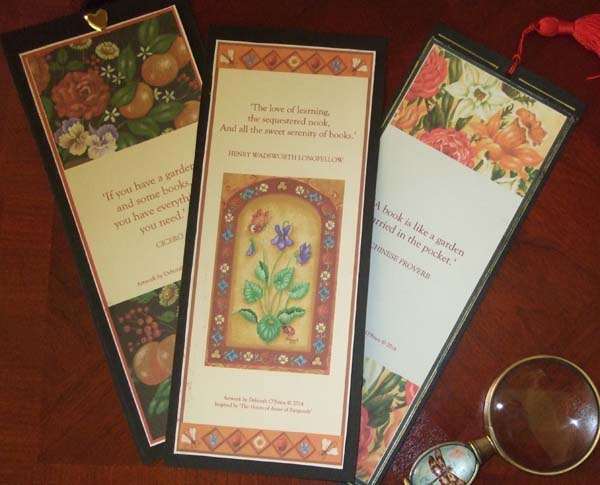 As a reader, you can never ever have enough bookmarks, especially if you're the kind of person who has several books on the go at the one time.
So I've designed a range of bookmarks for you to download and print. Some of them feature my new book, 'A Place of Her Own' (coming May 1), but there are also 'generic' designs with my favourite quotes about books and reading. There's even one for the blokes.
Keep the bookmarks for yourself or feel free to give them to family and friends or share them with your book club. But please note that the designs are not to be sold or used for commercial purposes.
There are three bookmarks on each A4 pdf page.
Just click on the link beneath each set of three.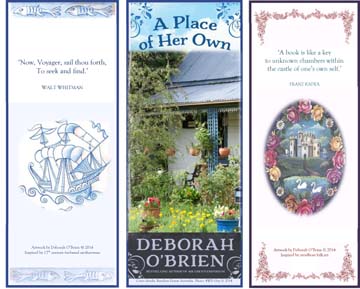 Bookmark set 1 (PDF)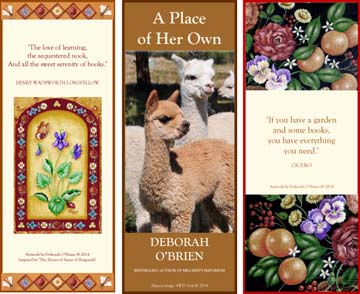 Bookmark set 2 (PDF)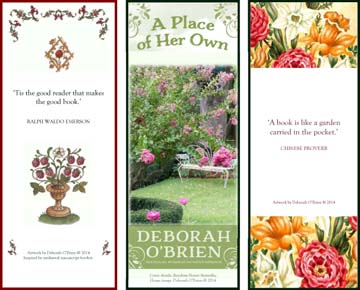 Bookmark set 3 (PDF)
As a former DIY author and teacher, I just can't help myself when it comes to giving make-it tips! So here are a few ideas for making the bookmarks.
THE EASY OPTION
You can print them on ordinary 80 g/m² white photocopy paper and cut them out, but because the paper is relatively lightweight they may tend to curl. Then again. if they get tatty, you can always print some more!
THE STURDIER OPTIONS
1. Use heavier paper. I like HP 200g/m² Colour Laser Paper in white.
Always check that the paper you choose is suitable for your particular printer.
OR:
2. Cut out the bookmark and glue it to cardboard. This is what I did with the examples in the photo.
I used black cardboard and left a cardboard border all the way around. If you want to make the bookmark special, you could rule a line-border with a gold pen.
If there are white edges showing around your bookmark, wait until the glue is thoroughly dry and use a coloured pencil to camouflage them.
This is a project which would be perfect to do with the kids in the school holidays. It's suitable for older children (late primary and high school) and really encourages a love of books. They might even be inspired to design bookmarks of their own!
I do hope you enjoy your bookmarks as much as I enjoyed designing them for you.

If so, please let me know by liking my Facebook page or sending a note via the Contact page of this website.
Deborah
March 25, 2014
---