Film Review:
'The Water Diviner'
I have to confess that I came to 'The Water Diviner' with a personal agenda. My great-uncle Arthur was one of 8709 Australian soldiers who died at Gallipoli and I feared that this picture might trivialise something which has always been sacred to me. Fortunately I was wrong. In his directorial debut Russell Crowe has crafted a very fine film about a father's search for his three sons, missing in action on the Gallipoli Peninsula.
Like the three young men in 'The Water Diviner', my great-uncle was a country boy caught up in the colonial fervour to serve King and Empire. For them, it was a 'great adventure', and although fathers like Joshua Connor and my own great grandfather James Hill would later agonise over having allowed their boys to enlist, the pervading atmosphere at that time was one of flag-waving and glory, and few foresaw the carnage to come. The fictional Connor brothers joined the 7th Battalion AIF recruited from Victoria; my great-uncle the 2nd Infantry Battalion from NSW. The Connor boys went missing in action on 7 August 2015. My uncle Arthur was killed exactly two months earlier. The eldest Connor son, played by the very talented Ryan Corr, shares my great-uncle's name.
The story begins in December 1915 just after Australian troops have been evacuated without a single casualty – the antithesis of the horrific landing and the bloody campaign itself. The first soldiers we meet are Turkish, under the command of Major Hasan (Yilmaz Erdoğan). They have just discovered that they've been tricked by self-firing rifles left in the Australian trenches. We are shown the impact of the campaign from the perspective of these men defending their homeland. In this respect, it is a departure from earlier films such as Peter Weir's 'Gallipoli'.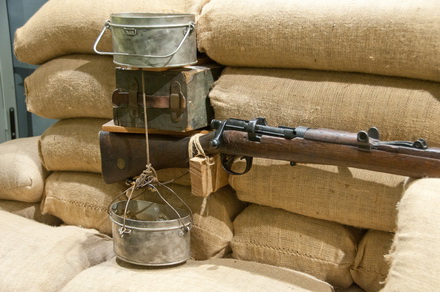 Self-firing rifle, The Army Museum, Bandiana. Pic courtesy of WGH.
There are many excellent performances in 'The Water Diviner' but Russell Crowe is its towering strength. He is the river gum, its roots buried deep within the Australian soil, its trunk solid and sturdy. We see the aching pain he feels for his lost family and the goodness in his heart. Not once do we question his decision to travel to a faraway land in search of his sons or doubt his commitment to bring them home to be buried beside their mother.
My own great grandfather never saw his son's grave, except in a photograph sent by the army with details of its location in the Lone Pine Cemetery at ANZAC Cove. James Hill received a brown parcel containing a small wallet, a metal disc and a letter – these were Arthur's only remaining possessions from his six weeks in the Dardanelles. My great grandfather duly signed the acknowledgment form and returned it to the military authorities. Medals followed, but nothing could replace his lost son, the six-foot shearer with grey eyes, olive complexion and dark brown hair.
There are many threads in Crowe's richly crafted film, all woven together with expert skill – the tale of the magic carpet from the 'Arabian Nights' juxtaposed with Australian icons such as the steel windmill and the cricket bat. Each motif plays its role within the story as both metaphor and practical part of the plot.
Cinematographer Andrew Lesnie gives us images that linger long after the film is over: the dust storms of western Victoria, Istanbul's magical skyline with its mosques and minarets, the killing fields of Gallipoli. Writers Andrew Knight (of 'Sea Change' fame) and Andrew Anastasio have created an engrossing story, an historically accurate framework and a screenplay graced with authentic dialogue. On the latter count, Julian Fellowes, please take note.
In a nutshell, 'The Water Diviner' is a moving homage to the Australian and Turkish soldiers who fought at Gallipoli and a hymn to the tragic futility of war. I commend it to you without reservation.
If you would like to read more about Australia's involvement in earlier imperial wars, see my article, He Who Would Valiant Be.
Deborah O'Brien
5 January, 2015
---