---

An Emporium by Any Other Name …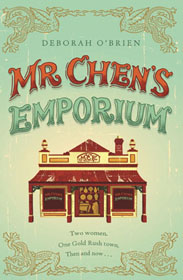 Some years ago, when I began writing MR CHEN'S EMPORIUM, which is partly set in the Gold-Rush era and partly in the present day, I considered calling it Days of Gold, a phrase from the classic Henry Lawson poem, 'The Roaring Days'. I've always loved literary references in titles. I think it's because they impart a certain gravitas, not to mention a dash of magic. There are endless examples, of course, but among the best are Proust's Remembrance of Times Past, an allusion to Shakespeare's 'Sonnet 30', Hardy's Far from the Madding Crowd (quoting Gray) and the recent Her Fearful Symmetry (Audrey Niffenegger referencing Blake).
Even now, whenever I start up my laptop, I can't help smiling at the file named 'Days of Gold.doc', which I've never bothered to delete. For a few weeks it served as the working title of my novel, until a quick search of the net revealed a couple of existing books with the same name. Damn! I really wanted something unique. Then it struck me that the centrepiece of my story wasn't the Gold Rush at all. The real star was Charles Chen's emporium, an Aladdin's cave of treasures, whose presence would run right through the narrative as a potent force in the lives of the two female protagonists.
Much later, when I happened to mention the early title to my agent, she said that although it was worthy enough, it wouldn't have grabbed her attention. And, of course, she was right. If my book had remained as 'Days of Gold', I might still be looking for an agent, not to mention a publisher!
Speaking of titles, here are a few of my favourites, in no particular order. By the way, not only are the titles wonderful, so are the books themselves. You'll notice there are two from Mr Dickens, that doyen of memorable titles.
War and Peace
Atonement
Where the Wild Things Are
The Slap
Sons and Lovers
The Book Thief
The Very Hungry Caterpillar
A Tale of Two Cities
Gossip from the Forest
Wuthering Heights
Great Expectations
To Kill a Mockingbird
Do you have your own favourites? Let us know.
Deborah O'Brien
August, 2012