Spot the Anachronism
Recently, while I was doing a clean-up, I found this little drawing among my primary school exercise books. It was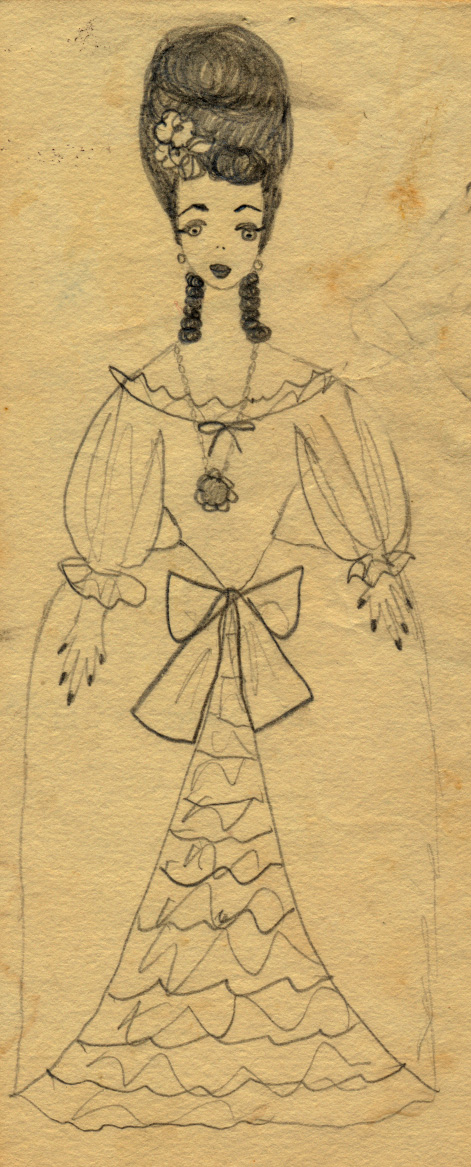 probably an illustration I'd done to accompany one of my 'historical' stories. No trace of the actual tale remains.
Looking at the costume, I suspect the story was set in the Wild West. As a little girl, I used to fantasise about being Miss Kitty from 'Gunsmoke'. I thought she was the most beautiful woman on television and the fact that she ran a saloon didn't bother me at all. I had no idea that a saloon would usually incorporate a brothel. And even if I had, I wouldn't have known what a brothel was! Then again, Miss Kitty always seemed rather prim and proper - more like a schoolmarm than a saloon keeper.
American Western shows seemed to monopolise Australian TV screens back then - 'Rawhide', 'Daniel Boone', 'Gunsmoke', 'Wagon Train', 'Bonanza', 'Cheyenne', 'Sugarfoot', 'Lawman', 'Rin Tin Tin', 'The Rifleman', 'Wyatt Earp' and 'Maverick'. (By the way, you won't find a more gorgeous Western hero than James Garner's Bret Maverick.)
Knowing very little about history - except that it happened in the past -I was under the impression that cowboys coexisted with Vikings (who had come to my attention thanks to a movie with Kirk Douglas and Tony Curtis!) I also assumed that cowboys were contemporaneous with knights, fair damsels and the Age of Chivalry. I had no idea about timelines or chronology. In my ignorance, I filled my stories with a cast of characters from different centuries and disparate continents. No wonder my parents used to stifle a laugh whenever I would read my latest effort out loud.
What I find particularly funny about this childhood drawing is the unintentional anachronism. Can you spot it?
Yes, my nineteenth-century lady is wearing nail polish!
And I have a confession to make - even now I can't draw hands!
The other thing that makes me smile is the cameo pendant my lady is wearing – an exact copy of the one which belonged to my grandmother, May O'Brien.
I used to beg my poor grandmother to lend me that cameo. Eventually May gave in, letting me wear it for special occasions, though I always had to return it afterwards.
'Please let me keep it,' I used to whinge.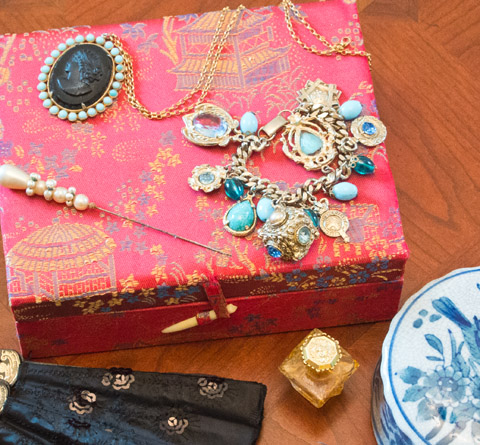 'When you're fifteen,' she replied.
To a nine-year-old, that seemed like a lifetime.
My relentless entreaties must have worn her down because she gave me the pendant for my thirteenth birthday, and I've treasured it ever since.
In fact, a version of the cameo appears in MR CHEN'S EMPORIUM among Amy's keepsakes. Here's a picture of the real thing. The stunning bracelet was my grandmother's too. She was a very stylish lady.

Deborah O'Brien
July 2013
---