Proverb Bookmarks
A GIFT FOR YOU
DOWNLOAD YOUR FREE BOOKMARKS
USING THE LINK AT THE BOTTOM OF THIS PAGE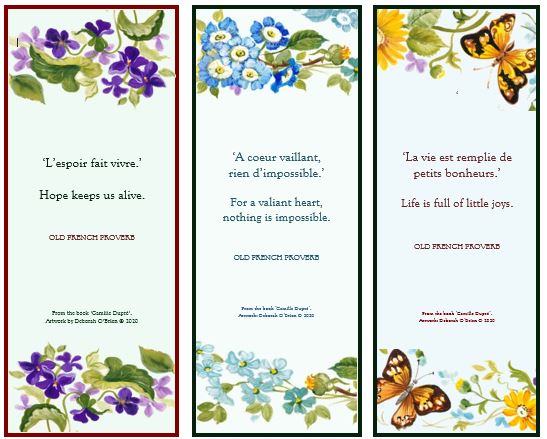 As a reader, you can never ever have enough bookmarks, especially if you're the kind of person who has several books on the go at the one time.
So I've designed a range of bookmarks for you to download and print, featuring proverbs about hope and happiness from my e-novel, 'Camille Dupré'. Yes, I know it's a digital book, but print books still predominate and I, for one, am glad of that. I love a glossy embossed cover and the smell of printer's ink, but sometimes that's not a viable option.
At the end of last year I finally finished a manuscript I'd been working on for years, set during the Nazi Occupation of France. But before I knew it, the coronavirus had struck and it dawned on me that we were facing our own deadly battle, but against an invisible enemy. That was when I decided to release the book free with the request that readers might consider making a donation to a COVID-19 related charity. There was no question of producing a print book. It had to be an e-book, something that could be formatted quickly and easily accessed during lockdown.
Although most e-books look rather plain, I was able to incorporate some decorative touches you won't find inside typical digital books (such as coloured text), but technical constraints forced me to remove some of the more exuberant features that had appeared in my original file but wouldn't convert smoothly to the PDF format.
Bookmarks are another story. There are no creative constraints when it comes to making and decorating them. Below are a few ideas for embellishing your bookmarks. But, if you'd prefer, you can simply print them onto photocopy paper and cut them out - they will be flimsy but will serve the purpose.
If you have some paper that's a little heavier than normal photocopy paper but can still safely run through your printer, you could try that. Otherwise, if you want to make a sturdier bookmark, you can print on ordinary 80gsm photocopy paper, cut out your bookmarks and glue them to coloured cardboard. These personal touches make for a very smart bookmark, particularly if you add a mini-tassel or a decorative split-pin like the heart-shaped one in the photo.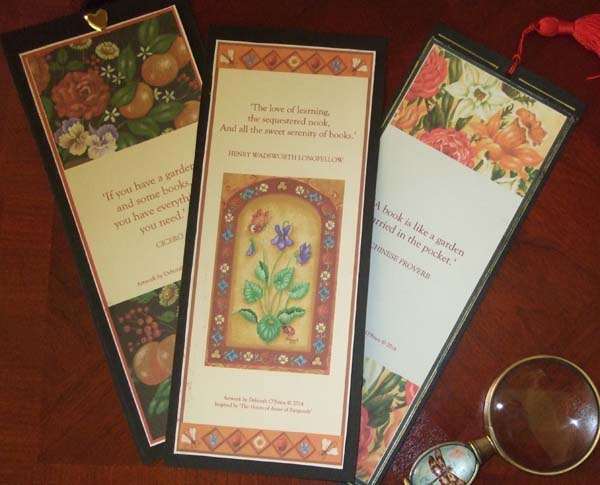 Ideas for finishing and decorating bookmarks.
I designed these for the release of 'A Place of Her Own' in 2014.
Keep the bookmarks for yourself or give them to family and friends. They're also perfect for sharing with your book club.
Download your 'Camille Dupré' proverb bookmarks here.

Deborah O'Brien
27 May 2020